Lifetime Access to All Premium Extensions from Meta Box WordPress Plugin for Only $69
Meta Box is a well-known WordPress plugin that helps you easily customize meta boxes and custom fields using WordPress. According to official statistics from WordPress.org, Meta Box is in use on over 300,000+ websites and continues to steadily grow in use. With a rating 4.9 out of 5 stars, Meta Box has been asserting its No. 1 position both in terms of quality and user satisfaction with the product.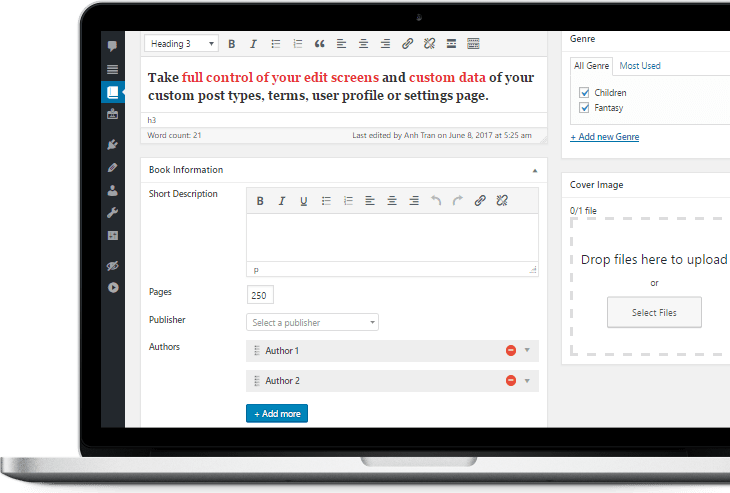 Meta Box plugin on WordPress.org
And to add premium features to your WordPress website, MakiPlace would love to give you a bargain: Lifetime access to all premium extensions from Meta Box for only $69.
Highlights
Lifetime access to all Meta Box's current and future extensions
Lifetime updates & support from the Meta Box creator
Unlimited websites with permissions for usage
One time fee
Detailed documentation on how to use and setup those extensions so you can start using them immediately
Use them in your free and/or commercial products. The only restriction is you cannot include premium extensions in a free product or share them publicly
Use the plugin and extensions to build your premium themes or plugins and sell them on your own websites or marketplaces like ThemeForest
14-day money back guarantee, no questions asked
Premium Extensions List
Meta Box Builder
Create custom meta boxes and fields using drag-and-drop interfaces.
Meta Box Conditional Logic
Control the visibility of Meta Boxes, Fields and even HTML elements with ease.
Meta Box Tooltips
Display helpful information for fields using beautiful tooltips.
Meta Box Show Hide (JS)
Toggle Meta Boxes by page template, post format or taxonomy using JS.
Meta Box Template
Define custom Meta Boxes and custom fields more easily with templates.
Meta Box Columns
Display fields more beautifully by putting them into 12-columns grids.
MetaBox Include Exclude
Show/hide Meta Boxes by ID, page template, taxonomy or custom function.
Meta Box Tabs
Create tabs for Meta Boxes easily. Support 3 WordPress-native tab styles.
MB Custom Table
Save custom fields data to custom table instead of the default meta tables. Reduce database size and increase performance.
MB Revision
Track changes of custom fields with WordPress revision. Save, compare, restore the changes easily.
MB Frontend Submission
Create frontend forms for users to submit custom content. Embed everywhere with shortcode.
Meta Box Geolocation
Automatically and instantly populate location data with the power of Google Maps Geolocation API.
MB User Meta
Add custom fields to user profile (user meta) quickly with simple syntax.
MB Rest API
Pull all meta value from posts, terms into the WP REST API responses.
MB Settings Page
Create settings pages for themes, plugins or websites with beautiful syntax
MB Term Meta
Add meta data to categories, tags or any custom taxonomy with simple syntax.
MB Admin Columns
Display custom fields in table columns in admin screens for All Posts (types).
Meta Box Group
Create repeatable groups of custom fields for better appearance and structure.
Let's see what people are saying about Meta Box
Pricing
Normally, this huge collection sells for $499, but for a limited time only, you can get all premium WordPress extensions for just $69! Yes, you read that right, just $69! That's a massive saving of 86% off the regular price!
Click the BUY NOW button to grab it now before it gone!
Deal Terms
You will receive an email after completing your purchase which allows you to redeem on Meta Box's website in order to obtain the extensions bundle. All of the extensions can be used for unlimited personal and commercial projects. You may upgrade to the Lifetime license at the Meta Box's website. Support and lifetime updates are included.